This letter, by Kerry for Choice member Saorlait Moore-Foley, first appeared in The Kerryman on the 8th March 2018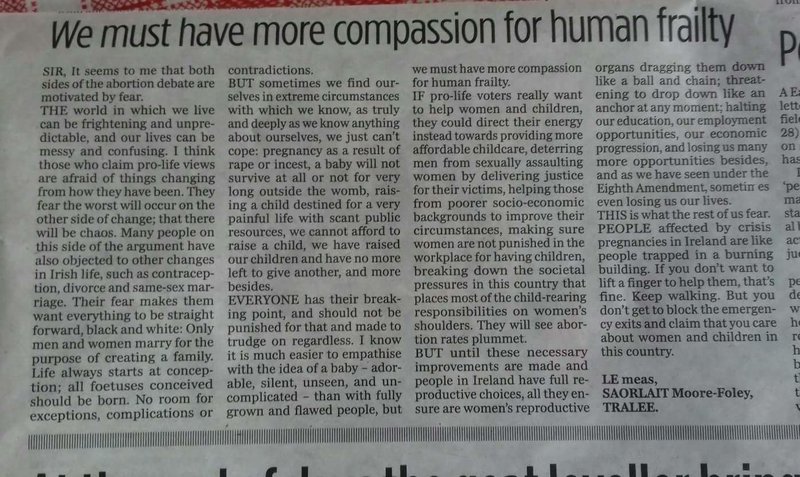 IT seems to me that both sides of the abortion debate are motivated by fear.
THE world in which we live can be frightening and unpredictable, and our lives can be messy and confusing. I think those who claim pro-life views are afraid of things changing from how they have been. They fear the worst will occur on the other side of change; that there will be chaos. Many people on this side of the argument have also objected to other changes in Irish life, such as contraception, divorce and same-sex marriage. Their fear makes them want everything to be straight forward, black and white: Only men and women marry for the purpose of creating a family. Life always starts at conception; all foetuses conceived should be born, No room for exceptions, complications or contradictions.
BUT sometimes we find ourselves in extreme circumstances with which we know, as truly and deeply as we know anything about ourselves, we just can't cope: pregnancy as a result of rape or incest, a baby will not survive at all or very long outside the womb, raising a child destined for a very painful life with scant public resources, we cannot afford to raise a child, we have raised our children and have no more left to give, and more besides.
EVERYONE has their breaking point, and should not be punished for that and made to trudge on regardless. I know it is much easier to empathise with the idea of a baby – adorable, silent, unseen, and uncomplicated – than with fully grown and flawed people, but we must have more compassion for human frailty.
IF pro-life voters really want to help women and children, they could direct their energy instead towards providing more affordable childcare, deterring men from sexually assaulting women by delivering justice for their victims, helping those from poorer socio-economic backgrounds to improve their circumstances, making sure women are not punished in the workplace for having children, breaking down the societal pressures in this country that places most of the child-rearing responsibilities on women's shoulders. They will see abortion rates plummet.
BUT until these necessary improvements are made and people in Ireland have full reproductive choices, all they ensure are women's reproductive organs dragging them down like a ball and chain; threatening to drop down like an anchor at any moment: halting our education, our employment opportunities, our economic progression, and losing us many more opportunities besides, and as we have seen under the Eighth Amendment, sometimes even losing our lives.
THIS is what the rest of us fear.
PEOPLE affected by crisis pregnancies in Ireland are like people trapped in a burning building, If you don't want to lift a finger to help them, that's fine. keep walking. But you don't get to block the emergency exits and claim that you care about women and children in this country.