This letter, by Kerry for Choice member Dr. Maeve Mahon-Ferriter, first appeared in The Kerryman on 21st December 2016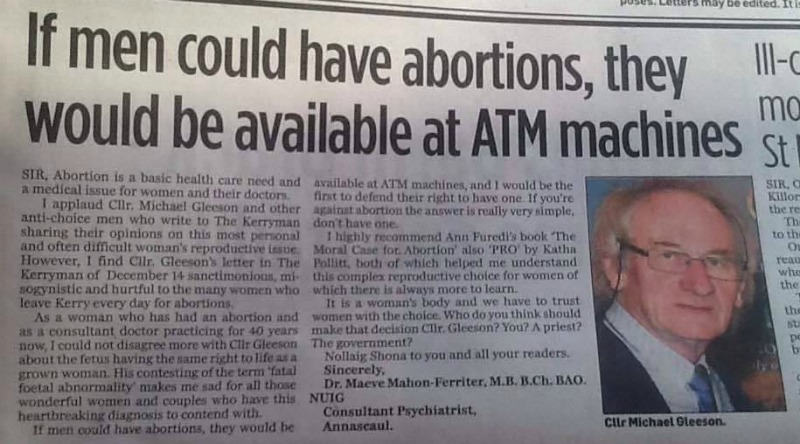 Abortion is a basic health care need and a medical issue for woman and their doctors.
I applaud Cllr. Michael Gleeson and other anti-choice men who write to the Kerryman sharing their opinions on this most personal and often difficult woman's reproductive issue. I find your letter and attitude, Cllr. Gleeson, sanctimonious misogynist and hurtful to the many women who leave Kerry every day for abortions.
As a woman who has had an abortion and as a consultant doctor practicing for forty years now I could not disagree more with you, Cllr Gleeson about the foetus having the same right to life as a grown woman. Contesting the term Fatal Foetal Abnormality makes me sad for all those wonderful women and couples who have this heartbreaking diagnosis to contend with.
If men could have abortions, they would be available at ATM machines. And I would be the first to defend your right to have one, Sir. If you're against abortion the answer is really very simple, don't have one.
I highly recommend Ann Furedi's book "The Moral Case for Abortion" also PRO by Katha Pollitt both of which helped me understand this complex reproductive choice for women of which there is always more to learn.
It is a woman's body and we have to trust women with the choice. Who do you think should make that decision Cllr. Gleeson? You? A priest? The government?