This letter first appeared in The Kerryman on the 27th January 2016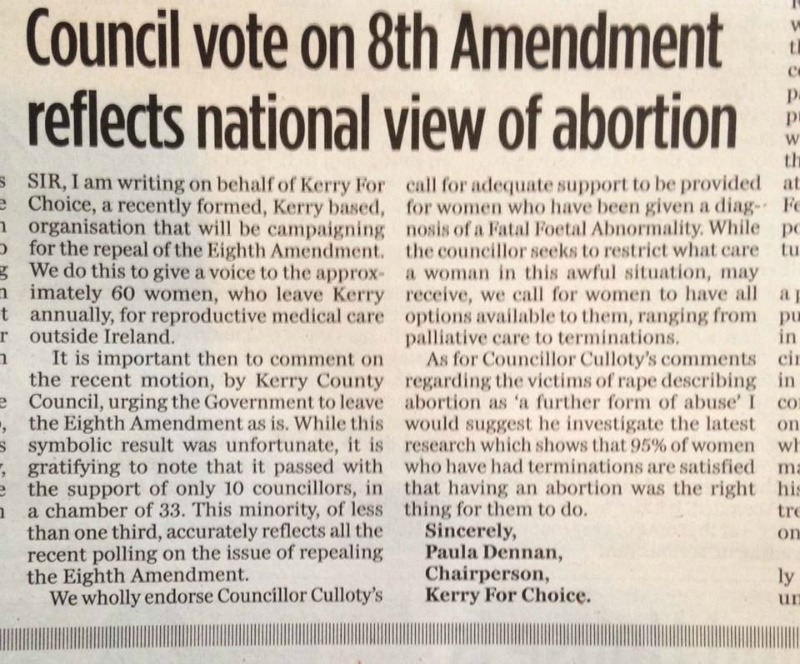 I am writing on behalf of Kerry For Choice, a recently formed, Kerry based, organisation that will be campaigning for the repeal of the Eighth Amendment. We do this to give a voice to the approximately 60 women, who leave Kerry annually, for reproductive medical care outside Ireland.
It is important then to comment on the recent motion, by Kerry County Council, urging the Government to leave the Eighth Amendment as is. While this symbolic result was unfortunate, it is gratifying to note that it passed with the support of only ten councillors, in a chamber of 33.
This minority, of less than one third, accurately reflects all the recent polling on the issue of repealing the Eighth Amendment.
We wholly endorse Councillor Culloty's call for adequate support to be provided for women who have been given a diagnosis of a Fatal Foetal Abnormality. While the councillor seeks to restrict what care a woman in this awful situation, may receive, we call for women to have all options available to them. Ranging from palliative care to terminations.
As for Councillor Culloty's comments regarding the victims of rape describing abortion as 'a further form of abuse' I would suggest he investigate the latest research which shows that 95% of women who have had terminations are satisfied that having an abortion was the right thing for them to do.