This press statement was issued on the 31st October 2016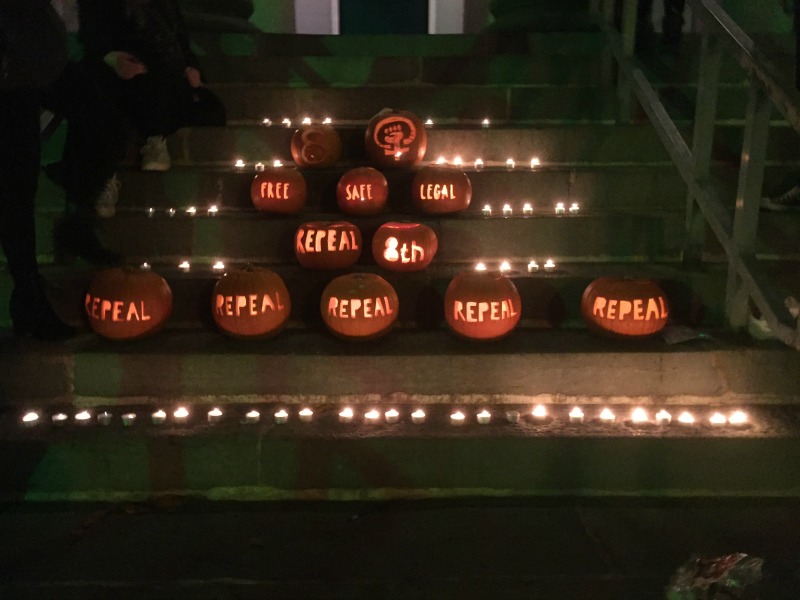 On the 31st of October 2016 Kerry for Choice in collaboration with Kerry Knicker Collective placed 12 pumpkins and 56 candles on the Tralee Courthouse steps to highlight the 12 Irish women a day and 56 Kerry women in 2015 who were forced to travel to England to access abortion services.
At this time of year we light candles and carve pumpkins to keep away the ghosts and ghouls of Halloween in the hope of keeping loved ones safe from harm. Unfortunately, for every pregnant woman and person who awakes on 1st of November, the spectre of the Eighth Amendment will not have been dispelled.
They will awake once again to realise they have lost their right to medical consent and the right to control what happens to their bodies.
They will awake to country where medical professionals are not free to offer best practice but must constantly balance the wants and needs of the pregnant person with laws that, they fear, would see them prosecuted for not equating the life of grown adult woman with that of a developing foetus.
They awake to a country that will send them abroad to end pregnancies that they cannot, for whatever reason, continue.
They will awake to a country that instead of allowing these decisions to be made with their own medical providers and support networks, would instead see them made travel, to support the illusion that Ireland is abortion free."
Kerry for Choice chairperson, Paula Dennan said: "Last week the Government voted down Ruth Coppinger TD's Private Members Bill calling for a referendum to repeal the Eighth. The Government continue to put the lives of women and pregnant people at risk while they wring their hands and hide behind the stalling exercise that is the Citizens' Assembly. Our women and pregnant people deserve better.
We call on our elected representatives to demand an immediate referendum to repeal the Eighth, to finally put to rest the spectre of the 8th so we can care for our women and people with wanted and crisis pregnancies, in a manner that affirms their right to bodily autonomy and their right to choose what happens to them during pregnancy."