This letter first appeared in The Kerryman on the 23rd November 2016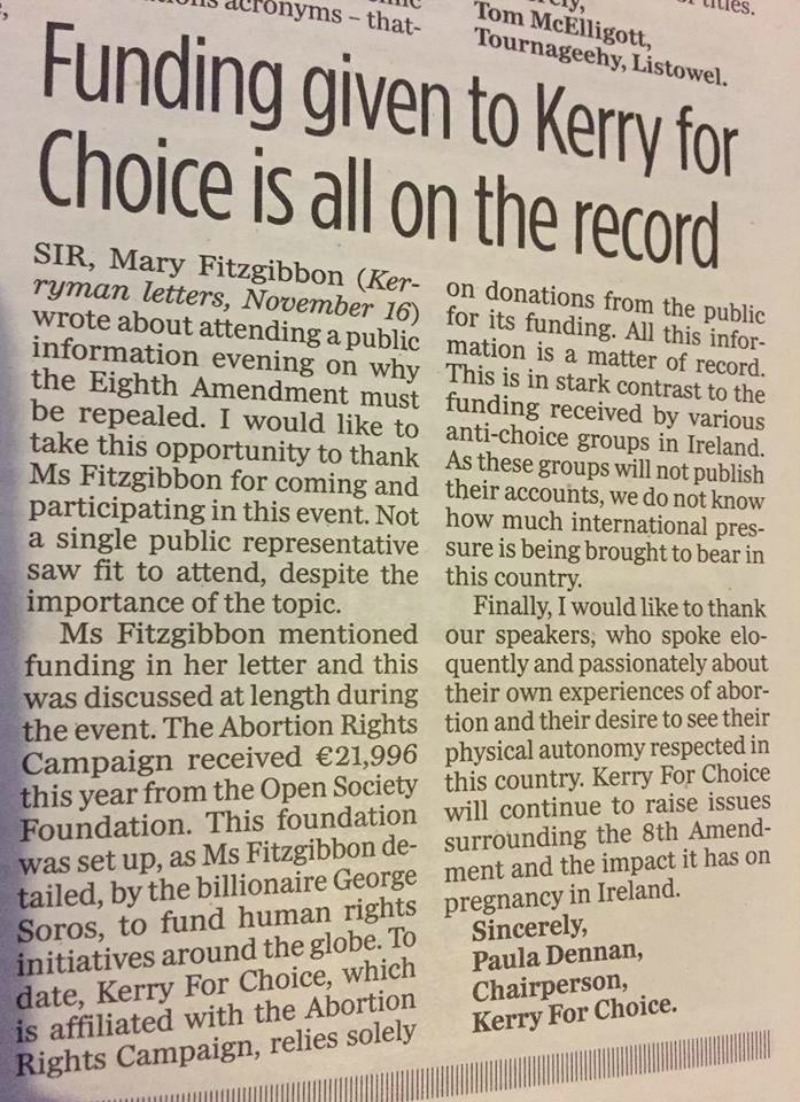 Mary Fitzgibbon (Kerryman letters, November 16) wrote about attending a public information evening on why the Eighth Amendment must be repealed. I would like to take this opportunity to thank Ms Fitzgibbon for coming and participating in this event. Not a single public representative saw fit to attend, despite the importance of the topic.
Ms Fitzgibbon mentioned funding in her letter and this was discussed at length during the event. The Abortion Rights Campaign received €21,996 this year from the Open Society Foundation. This foundation was set up, as Ms Fitzgibbon detailed, by the billionaire George Soros, to fund human rights initiatives around the globe. To date, Kerry for Choice, which is affiliated with the Abortion Rights Campaign, relies solely on donations from the public for its funding. All this information is a matter of record. This is in stark contrast to the funding received by the various anti-choice groups in Ireland. As these groups will not publish their accounts, we do not know how much international pressure is being brought to bear in this country.
Finally, I would like to thank our speakers, who spoke eloquently and passionately about their own experiences of abortion and their desire to see their physical autonomy respected in this country. Kerry for Choice will continue to raise issues surrounding the Eighth Amendment and the impact it has on pregnancy in Ireland.